Test No. 104 - "Electrolytic Capacitor EL-7"
(Return to Index Page) Output Variations at 30oC June 6 - 13, 1977
Stewart Ct. Laboratory
Sunnyvale, CA 94086 Copyrighted © by The Townsend Brown family. All rights reserved.
PURPOSE
: To observe fluctuations in self-potential output of electrolytic capacitor EL-7 at constant temperature 30
o
C. Capacitor loaded with 50 K.
PROCEDURE
: The capacitor (by its construction) is hermetically sealed (against humidity and barometric pressure changes) and the can (grounded) is almost completely immersed in 50% ethylene glycol solution at 30
o
C +/- .1
o
C in constant-temperature bath (also grounded). Potential reduced to the range (0-10 mV) of Houston recorder No. 2 by loading with 50 K. Circuit is as follows: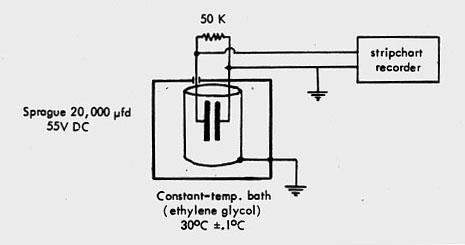 RESULTS
: As shown on chart (Fig. 1), there appears to be no definite diurnal periodicity in the self-potential of EL-7 during this period of time. Considering that the capacitor is shunted by a 50 K load, the potential developed is surprising. The polarity reversed from positive to negative in this capacitor early in June and remained negative throughout this test.
Graphic -
Figure 1
Please be advised that this document is copyrighted © by The Townsend Brown family. All rights reserved. Please see Legal and Copyright Information for additional copyright information.