The Thomas Townsend Brown Family Website
Welcome to the The Thomas Townsend Brown Family Website. The mission of this website is to act as a clearinghouse for public and private documentation, videos, patents and other sources of information associated with the life and research of the American physicist, Thomas Townsned Brown.
Please feel free to utilize the resources you find on thios website, but we do ask that you properly reference any resources that you do use. Thank you, Linda Ann Brown Daughter of T. Townsend Brown
---
PROBLEMS VIEWING THE SEARCH ENGINE BOX ? CLICK ON THE "COMPATABILITY VIEW" SELECTION IN YOUR "TOOLS" PULL-DOWN MENU AT THE TOP OF YOUR BROWSER.
---
Thomas Townsend Brown
Of all the names of 20th Century science, perhaps none is more obscure, or more curious, than that of Thomas Townsend Brown.
Brown was blessed with the unique ability to "see what others have seen and think what nobody has thought." As a teenager in the 1920s, working in a well-equipped laboratory in the basement of his prominent Ohio family's opulent home, Brown noticed an unusual effect when high voltage was applied to a Coolidge X-Ray tube. With that observation, he came to believe he had discovered a link between electricity and gravity - and a way to lift and propel flying vehicles by purely electrical means.
Thus begins the odyssey of T. Townsend Brown, who spent a lifetime crisscrossing the hemisphere in the relentless pursuit of his "flying saucer pipe dreams."
"The Good-Bye Man"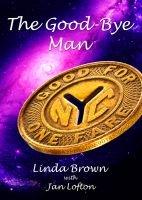 If you are interested in reading the published memoir, "The Good-Bye Man," by Linda A. Brown (daughter of T. Townsend Brown) - follow the link below:
If you would like to participate or just visit the new discussion forum at the website moderated by Linda Brown, which will include everything from historical wartime espionage and the development of advanced technologies by the Axis and Allied forces during World War II to the philosophy of the use of leading edge technologies - follow the link below:
| The Cosmic Token: moderated by Linda Brown | Link |
| --- | --- |
If you wish to view an edited version of the Bahnson Laboratory video with Townsend Brown covering the period from 1958-1960 or Mr. Schatzkin's (former author of the unedited and defunct work, "Defying Gravity: The Parallel Universe of T. Townsend Brown") presentation in Las Vegas - follow the link below to the "Selected Videos" listing in the Library Section:
| "Selected Videos of Interest" | Link |
| --- | --- |